Truffle Hot Chocolate Balls
When I came across the recipe for this I fell in love...
such an easy sweet quirky idea, especially for the Christmas period. The Hot chocolate balls make great mood boosters and you can also give them away as gifts. A lovely mug filled with these chocolate balls and a few mini marshmallows make a lovely home made gesture especially for the neighbours.
The original recipe I found for these babies was quite basic... simple rolled ganache *chocolate and heavy cream

mixture

. I've switched this up a little to add a bit of flavour and texture and to make them truly fabulous. I will also offer you some fantastic flavour variations at the bottom of the page...
Right time to get started...
*
Makes about 9-10 hot chocolate balls
INGREDIENTS:
12 ounces (2 cups) semisweet chocolate chips
1 cup heavy cream
1 tablespoon sugar
1-2 tsp of your chosen flavouring i.e vanilla.. orange.. coffee...mint...strawberry... list is endless
1/8 teaspoon salt
Cocoa powder or hot chocolate powder just to dust and seal balls
or melted choc to dip and seal
In a medium sized microwavable bowl mix all your ingredients together

Microwave at 1 minute intervals on a medium heat setting

stirring often, until the mixture is combined and very smooth and silky.

When you first start

stirring

the mixture will look really grainy and not very nice. But

persevere,

eventually the mixture will mix together perfectly after a few heat and mix cycles.
Be careful not to overheat as you don't want the chocolate to seize. The trick is to stir often since the mixture will blend together even when it looks like the chocolate chips haven't melted completely.

Leave the mixture to cool for about 10 minutes at room temperature. Cover the bowl with plastic wrap and place in the refrigerator until the ganache mixture is firm and ready to

scoop, this will take around 2-3 hours.

Scoop out about 1/4-cup spoonfuls of the mixture and place them on a wax paper-lined baking sheet. then put them back in the fridge to set and harden... about 20-30 mins.
Roll them into balls and powder with cocoa or hot chocolate powder, this will just seal them.
If you wish you can also dip them in melted chocolate... and if you're feeling adventurous why not roll them in mini marshmallows.

you can then

place them on squares of plastic wrap (about 4 inches by 4 inches). Pull the sides of the plastic wrap over to cover the ball.

If you are giving these as a gift I think they look much nicer either wrapped in a nice foil or cellophane.

If you are giving these as a gift make them fresh on the day or night before you are giving them and keep them in the fridge. suggest to the recipient to freeze the balls if they aren't going to be used straight away.

If you have made them for yourself the same apply's ...keep in the fridge or freezer until you are ready to use :)
All you need to do now is heat up your milk and drop in your hot chocolate balls...if you find they don't completely melt give them a 30 second zap in the micro
you can also serve these as standard truffles :) try rolling them in chocolate sprinkles if you do
Some ideas...
Why not buy a lovely mug and fill with your wrapped balls to give as a gift
you can put your hot chocolate truffles in mini cupcake cases to give as gifts also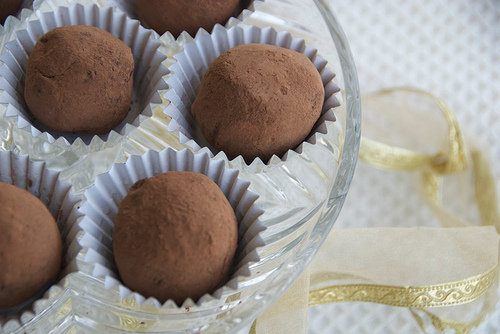 You can also put them onto wooden lollipop sticks and wrap them with cellophane for easy stirring
Or why not make some hot chocolate decorations with piped white or dark chocolate. Make some heart decorations and put in with your gift with directions... make hot chocolate with balls... top with cream and/or marshmallows and then place your chocolate heart or design on top.
you could roll your hot chocolate balls in vanilla sugar if you have a sweet tooth.
how about making your own Christmas flavours such as:
mulled wine-cinnamon, nutmeg, orange, demerara sugar
peppermint - just peppermint essence
ginger and honey- grated ginger (candied if possible) 3tsp of honey
nice and spiced - clove, nutmeg, cinnamon, pepper
Fire starter - add half a teaspoon of chilli powder
Hope you enjoy my ideas please let me know what you think and keep me updated if you try them out