Banana Cupcakes with Cream Cheese Icing
I don't know about you but I absolutely LOVE moist banana cake. Especially with a complimentary cream cheese frosting.
T

he combination of vanilla, cinnamon and banana in the cake
taste
amazing together… And the aroma that will fill your house as they came out
of the
oven freshly baked is incredible.
If you're not too keen on walnuts you can top your cupcakes with
caramel banana slices. I will explain how to do this at the bottom of
Ingredients
125g butter, softened
3/4 cups brown sugar
2 eggs
1 tsp vanilla extract
1/4 tsp ground cinnamon
2 ripe bananas, mashed
1 1/2 cups self-raising flour
100ml milk
Walnuts (optional)
30g butter, softened
125g cream cheese, softened
2 cups icing sugar
Cream the butter and sugar together until fluffy. Beat in the eggs one at a time (works best with eggs at room temp), and add the vanilla and cinnamon.

mash up the bananas and then Beat the bananas into the mixture.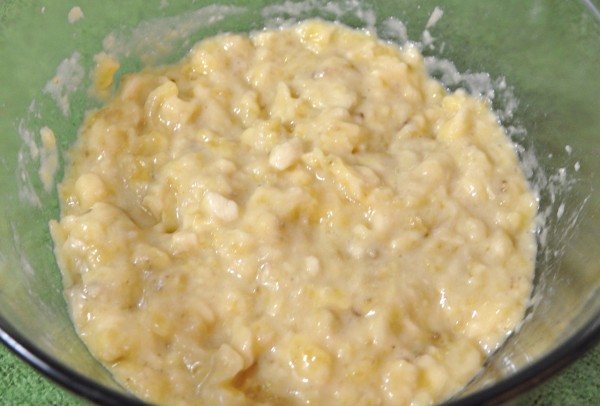 Sift the flour and gently fold into the mixture, alternating with the milk.

Spoon into 12 prepared cupcake cases and bake for 15-20 minutes* until a toothpick inserted into the middle comes out clean. keep an eye on the cakes as cooking times vary

depending

on cooker and conditions
To make the icing: Beat the butter until fluffy and pale. Add the cream cheese and beat well, and slowly add the icing sugar until the icing is thick and creamy.

When th

e cupcakes are cool spoon or pipe a fair amount of icing onto each cupcake and top with a walnut.
Note: Don't
refrigerate
these cupcakes! eat them at room temperature because they will dry out If you plan to eat them a day or two ahead, leave the icing to the last minute and keep the icing in the fridge.
For the caramelised Bananas to top:
1-2 bananas
2 -4 tablespoons granulated sugar (or more)
cooking spray (regular or butter flavour)
Slice bananas into thick coins or lengthwise strips, depending on your preference.
Pour sugar onto a plate. Roll bananas in sugar, until completely coated.

Spray a medium size nonstick pan, and heat over medium high heat. Add bananas and sugar.
Cook bananas until light to golden brown underneath, about 4-5 minutes (you can lift with a spatula or fork to peek). Be careful not to overcook or burn them (if you smell them browning, or see color in the pan, flip them right away). Keep in mind these times will vary, depending on your stove.

Gently flip bananas over to brown other side, turning heat down to medium. The second side will brown in about one minute.

Transfer to a plate that has been coated with cooking spray (otherwise they may stick - they are ooey gooey and sticky!) and serve.
Soak pan in hot water to facilitate cleaning.